I went to see The Killers tonight for the first time--nice. I gotta admit I was a bit skeptical about them at first, but I highly recommend you catch them live if at all possible.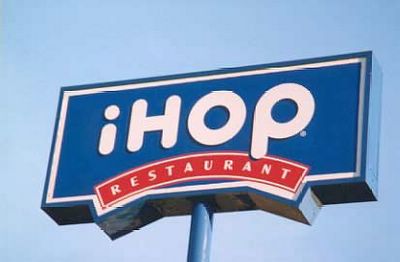 mm, mm, good
After rocking out to "Somebody Told Me" and "Mr. Brightside," we went to IHOP for late-night pancakes. It was our 18-year-old waitress Rashael's second night on the floor by herself, "So I hope I do okay," she told us as she set down our pitcher of decaf. "You're doing a great job," we assured her. She was so cute about explaining her waitressing thoughts out loud to us. At one point, our conversation lulled to find her leaning against the divider next to our table. "I didn't want to interrupt you guys, so I thought I would just stand here and listen until you noticed me." How can you not just smile about that?
i found this picture in a google image search for an ihop pic-- let me be that happy to have pancakes.
It took a while for our food to come out, and we were excited when we saw Rashael (pronounced Ruh-SHELL) come around the divider with plates of eggs and pancakes lined up her arms. "Short stack?" she asked Matt. "Who did you call me?" he asked. "JESUS CHRIST!" she answered and blushed. Apparently the plates had been hotter than she had anticipated, and our hunger pangs were quelled momentarily for several minutes of laughter.